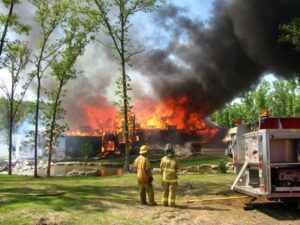 Iberia Rural Fire Protection District is partnering with the National Fire Protection Association® (NFPA®) — the official sponsor of Fire Prevention Week for more than 90 years —to promote this year's Fire Prevention Week campaign, "Learn the Sounds of Fire Safety!" from Oct. 3-9.
According to the NFPA, only three-quarters of U.S. homes have working fire alarms. All alarms should be installed and maintained properly in every home, replaced every 10 years, and should reflect the needs of everyone in the home, including those with disabilities.
"Teaching loved ones about fire safety can help prevent fires, and more importantly, build knowledge to respond to fires quickly if one breaks out," said Chief Greg Onstott. "Many people are unprepared when emergencies occur, and we want to provide as much support to our community members as we can."
IRFPD urges community members to adopt this year's Fire Prevention Week theme, and wants to share tips to help you and your family "Learn the Sounds of Fire Safety."
Here are the signs to look for and facts to know to ensure fire safety within your household:
A continuous set of three loud beeps—beep, beep, beep—means smoke or fire. Get out, call 9-1-1, and stay out.
A single chirp every 30 or 60 seconds means the battery is low and must be changed.
All smoke alarms must be replaced after 10 years.
Chirping that continues after the battery has been replaced means the alarm is at the end of its life and the unit must be replaced.
Make sure your smoke and CO alarms meet the needs of all your family members, including those with sensory or physical disabilities.
If fire safety and volunteering within the community sounds interesting, consider volunteering with IRFPD as a firefighter. "We're looking for passionate people to join our firefighting family. There is no experience needed, and we'll provide enriching training opportunities to build tactical skills," said Onstott.
To learn more about Iberia Rural Fire Protection District and the volunteer roles the department has available, visit iberiafire.org to fill out an inquiry form.